The History...
For the Gainey Arabian
---
From Generation.....To Generation......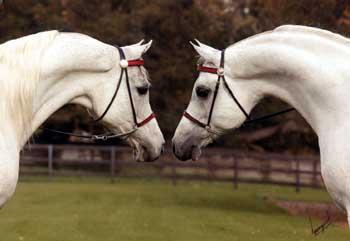 (Ferzon & Gai Parada)
[ www.geocities.com/gaiparada/ ]
It all began in 1940 with the vision of Daniel C. Gainey...

...enhanced by the knowledge and Commitment of preeminent breeders

Jimmy Dean and Frank McCoy...

(Gai Seance and Gai Parada)
It continues today under the supervision of Robin Gainey, great-
granddaughter of foundation breeder R.B. Field, who is devoted to
renewing the success of the Gainey Arabian and it's importance to the
gene pool of the Arabian horse.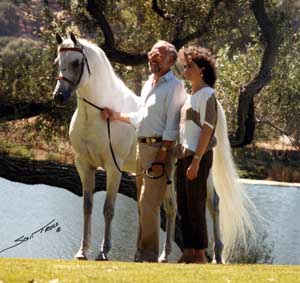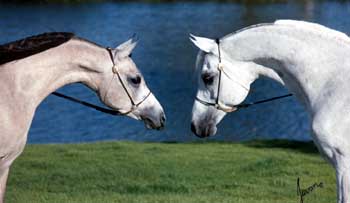 (Gai Radiant and Gai Parada)
---
The History....
1939 - the banquet capping the annual sales meeting for Josten's in Owatonna, Minnesota.  Daniel C. Gainey was presented a beautiful bay yearling Arabian colt by his salesmen and thus began an all-consuming affair between D.C. Gainey and the Arabian horse that continued for four decades.
A man of great energy and enthusiasm, Gainey did not just sit back and admire his gift.  Instead he set out to learn as much about the breed as possible.  Inevitably this brought him to fellow breeders such as A.W. Harris, Roger Selby and Jimmie Dean.
Gainey purchased Rageyma, a daughter of desert-bred *Mirage, who was in foal to *Raffles.  This beautiful, typey mare had already produced one foal from this cross, the colt Geym, who was selected to remain at stud at Selby.  These bloodlines added elegance and beauty to the utilitarian look of the Harris Arabians and Gainey quickly decided it was that look he wished to capture in his own breeding program.
The *Raffles foal Rageyma was carrying when Gainey bought her was Gajala, the mare that would become the cornerstone of Gainey Arabians.  Gainey drew upon all the great breeders of the day for his horses and breeding: A.W. Harris, Henry Babson, J.M. Dickinson, Roger Selby, L.W. Van Vleet.  Assembling his band of Arabians piece by piece, soon he owned *Raseyn daughters Balena and Ralouma.  Ralouma was in foal to *Mirage son, Rifage, and produced Gaysar, the first purebred Arabian foal registered in Minnesota.  Later, Rageyma was to produce two champion sons by Gaysar:  Skorage, who became chief herd sire for Ed Tweed's Brusally Ranch, and Galimar, a champion himself and used in the Gainey program.
In 1948 Bride Rose was purchased from Mrs. Cox Morrill and with Gajala, these two mares were to form the strongest mare lines of the Gainey program, still figuring predominantly in the Gainey program today.
As soon as he came of age, Galimar was introduced into the breeding program with outstanding results.  Bred to Bride Rose, he sired the filly Gali-Rose, who became an exceptionally beautiful mare as well as a great producer.
Gajala was bred to *Fadl and then to *Fadl son, Fay-el-Din, when she produced the filly Gadina (who later produced the Ferzon son, Ferdine).  Gajala was also bred to Phantom and Gaysar.  She was a consistently good producer, but not up to what Gainey felt was her true potential.  In his opinion she was the epitome of a classic Arabian: "She had the best face, the big eyes, the short head, the most expressive ears, the well-balanced neck, the deep body, the presence that was more beautiful than dreams.  In addition to beauty and type she had the greatest muscling over the loins you have ever seen.  She was kind-hearted, sweet, yet loaded with fire.."
Armed with his vision of the ideal Arabian, Gainey set off to find the ingredients that would produce it.  He continually sought out the one stallion to fully complement the fine qualities of his carefully acquired mares.  That stallion was Ferzon.
Gainey found his "dream" sire at the side of Frank McCoy's mare Fersara.  Her first foal was by Ferneyn and a fine boned, classically elegant specimen of the Arabian horse.  Gainey new he had to have him, though it took him a year to convince McCoy to part with him.
In November of 1953, Gainey paid a then unheard of price for a yearling colt, $10,000, and Ferzon became linked to the Gainey program forever, siring some of the most classically beautiful Arabian horses in the world and helping to set a certain look that would eventually establish the Gainey Arabian as a recognized sub-strain.
For the next three decades horses such as Gazon, Galatina, Raffon, Gavrelle, Gai Adventure, Gaizon, Ga-Rageyma, Gafferra, Ga-Gajala, Shar Mar Ferzay and Gai Champion became famous in their own right and helped perpetuate the Gainey "look".
And long-time breeder Garth Buchanan brought her Azraff daughter Rafeymaz to Ferzon.  Gainey in turn  bred Ga-Rageyma to *Raffles son, Azraff, to produce the beautiful Gai-Louise and a Golden Cross was born.
Gay Rose bred to Azraff produced U.S. National Champion Stallion, Galizon; full brother, Gay-Rouge, Canadian Top Ten Stallion and sire of Canadian National Champion Stallion Gai Champion; and full sister Gay Gay Rose, U.S. Top Ten Mare.  Galizon sired of 1974 U.S. National Champion Mare Jon San Judizon.
Gay-Rouge became another cornerstone of the Gainey program and he nicked particularly well with the Ferzon daughters.  And Azraff added yet another dimension to the well thought out program.  "The biggest contributions that Azraff made," said Jimmie Dean, "were the great hip, quarters and topline that he put on universally."
Ferzon and Azraff have been crossed in almost every conceivable way for three, four and five generations.  "It works consistently, clear down to the fifth generation," Dean said in 1979.  "I really expect they'll still be showing effects of the cross in a hundred years."  And so it does in the year 2001, some forty years later, in the solid hips, quarters and toplines of the Gainey foals.  This Golden Cross produced such outstanding individuals as Gai Ferzon Louis, Gai Gaspacho (purchased by Count Federico Zichy-Thyssen) and 1977 U.S. National Champion Gai Parada who later replaced his sire Ferzon as premier herd-sire for Gainey Arabians.
At Dean's suggestion, the *Raffles son Raffi was bred to Ferzon daughter Galatina producing the outstanding broodmare Gaffi.  When bred to Gay-Rouge, Gaffi went on to produce the famous Gai Dream.  Gai Dream was bred to Ferzon son, BF Rageymazon and produced multi-champion, Dreamazon, and when bred to Bey Shah, Dream produced U.S. and Canadian National Champion Mare, Gaishea.
The matriarchal line of Gaffi runs strong in the present day program of Gainey Arabians being the dam line on current herd-sire Gai Monarch, 2001 Canadian National Champion Stallion and U.S. Top Ten Stallion, a son of Ferzon son Gai Parada and Gai Dream daughter, Gaishea.
Over six decades have proven the consistency and prepotency of the Gainey breeding program.  Time after time, using the foundation of the Gainey Arabian, countless breeders have outcrossed successfully building on the strength of one man's vision and dedication.
In Jimmie Dean's words: "The most significant thing Dan C. Gainey did for the breed was to leave behind a ranch full of Gainey horses.  He established quality and refinement as the Gainey trademark.  He fixed a type."
Today, we have renewed the dedication to preserving that type while moving forward to improving it as well.  We continue to follow D.C. Gainey's formula in creating strong pedigrees and beautiful horses in our quest for perfection.  We seek to be true to the Gainey line as well as to be open to the introduction of lines that will help us move the vision of the Gainey Arabian forward, decade after decade.  That willingness to outcross brought us the success of Azraff and Gay-Rouge and Bey Shah in our program and moved the vision forward.  We continue to seek.
---
"Perfection must be the inevitable beacon light in any undertaking which hopes to achieve worthwhile results.  Personal ownership, prejudice, even that great quality, loyalty, must not be the guiding hand in a breeding program.
Perfection is what we are after"
---Daniel C. Gainey